Wiki Targeted (Entertainment)
Play Sound
DISCLAIMER: This article (or part of it) deals with Violent, Sexual, Profane, and/or Drug-Related Content. Viewer Discretion is Advised.
status = Lost (The close up version)
Rex Brown (lower left) Dimebag Darrell (upper left) Phil Anselmo (Middle) Vinnie Paul (right)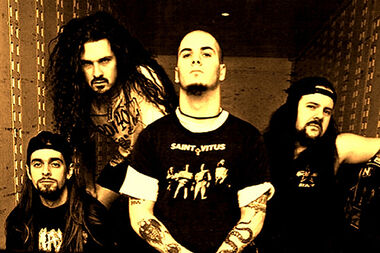 Dimebag Darrell Abbott (August 20, 1966-December 8, 2004) was a musician who is well Known for playing in heavy metal band Pantera. He was murdered on stage by a mentally unstable man named Nathan Gale. Gale was shot by a police officer called to the scene .4 were killed (including dimebag) and 27 were left injured.
DISCLAIMER: yes there is footage of his death but not the one we're looking for
Raw Footage Of Dimebags Death (Not Closeup) NSFL

Childhood
Darrell Lance Abbott was born in Ennis, Texas, on August 20, 1966, the second son to Carolyn and Jerry Abbott, a country music producer. His elder brother Vinnie Paul was born on March 11, 1964. Abbott's parents divorced in 1979, after seventeen years of marriage, but his family life remained happy. The brothers lived with their mother Carolyn, in a ranch-style house on Monterrey Street in Arlington Carolyn was supportive of her sons' musical endeavors.
Abbott took up the guitar when he was twelve. His first guitar was a Les Paul-style Hondo, which he received along with a Pignose amplifier on his twelfth birthday. Influenced by Black Sabbath, Judas Priest, Kiss and Van Halen, he would initially spend time in his room standing in front of a mirror holding the guitar while wearing Ace Frehley-style makeup, though he was unable to play the instrument at the time.Jerry learned Kiss songs on guitar in order to teach Darrell how to play them. Darrell also learned from country musicians who recorded at Jerry's studio, such as Bugs Henderson.
Vinnie had begun playing the drums before Darrell received his first guitar. Darrell had previously tried to play the drums; Vinnie later said: "I just got better than him and wouldn't let him play them anymore." The Abbott brothers' first jam session consisted of six hours of "Smoke on the Water". They took inspiration from Alex and Eddie Van Halen, and Vinnie said in a 2016 interview that he and Darrell were "inseparable" after they began playing music together.
At age 14, Abbott entered a guitar contest at the Agora Ballroom in Dallas, in which Dean Zelinsky, founder of Dean Guitars, was one of the judges.[12] Abbott's mother accompanied him to the club because he was not old enough to enter on his own. He won the competition; Zelinsky recalled that "[Abbott] blew everyone away." Abbott won many other guitar contests in the area, and was eventually asked not to compete and instead judge the competitions so others could win.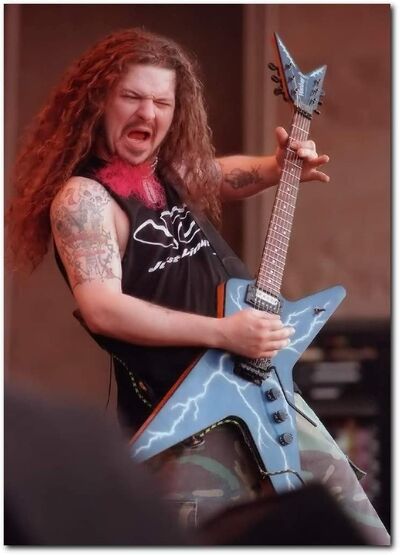 Death

Columbus nightclub shooting
A fan mourns outside the Alrosa Villa nightclub in Columbus, Ohio, where Abbott was murdered. On December 8, 2004, Damageplan was performing at the Alrosa Villa nightclub in Columbus, Ohio. As the band played the first song of its setlist, Nathan Gale, a deranged fan, rushed onto the stage and shot Abbott multiple times with a Beretta 92FS, a 9mm semi-automatic pistol. The band's head of security, Jeffrey "Mayhem" Thompson, then tackled Gale, but was fatally shot in the ensuing struggle. A fan, Nathan Bray, was also murdered as he attempted to aid Abbott and Thompson, as was Erin Halk, an employee of the venue who tried to disarm Gale while he was reloading. Three others were wounded before Columbus police officer James Niggemeyer entered the club and shot Gale once in the head with a 12-gauge Remington Model 870, killing him.
Abbott was pronounced dead at the scene, aged 38. Thousands of fans attended his public memorial, and the guest list included artists such as Eddie Van Halen, Zakk Wylde, Corey Taylor, Jerry Cantrell and Dino Cazares. Abbott was buried alongside his mother Carolyn at the Moore Memorial Gardens cemetery in Arlington, Texas. Gene Simmons donated a Kiss Kasket for the burial, and Eddie Van Halen donated his original black-and-yellow-striped 1979 Charvel "Bumblebee" guitar, which was featured on the back cover of Van Halen II, to be included in the casket. A few weeks prior to his death, Abbott had met Van Halen and asked him for a replica of the Bumblebee. Van Halen said at the funeral: "Dime was an original and only an original deserves the original."
After Vinnie Paul's death in 2018, he was buried next to Carolyn and Darrell, also in a Kiss Kasket.

The close up has not surfaced yet and due to the nature may never surface.

REFERENCES
http://www.mtv.com/news/1503545/videotape-of-chaos-during-dimebag-darrells-shooting-released/