When the Disney Channel launched in 1983, it showed popular shows, like You and Me, Kid, and Welcome to Pooh Corner that went on to be staples of the network. While Disney Channel would of course go on to make great success, and was an early step to Disney's almost near domination of media, one of it's launch titles barely saw the light of day. The show was called Dreamfinders, and references to it in early Disney Channel promotional materials are the only reason we know this show existed. Based on the EPCOT attraction 'Journey to Imagination', it featured a group of children whose magical friend could escort them to the realm of imagination to find solutions to their problems. Only 3 episodes of the show were aired, but only in the first week of Disney Channel's original existance. Nobody has ever come forward with recorded copies, and reruns have not been shown on any of Disney's other outlets. However interesting it could have been in a product of an interesting time in Disney's history, nobody appears to have laied eyes on the show since the spring of 1983, and recordings are unlikely to surface at this point.
The show has been lost in its entirety.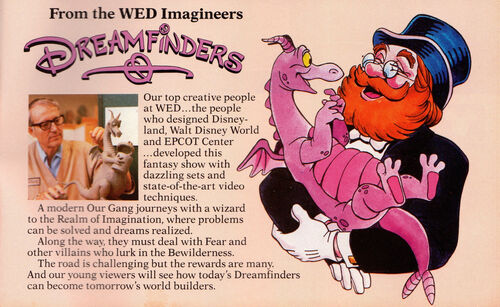 Community content is available under
CC-BY-SA
unless otherwise noted.