Wiki Targeted (Entertainment)
Play Sound
Template:InfoboxLost Like That by Doja Cat was planned to have a music video released in May 2020, however, the release was cancelled, not too long after the cancelled release passed. The video was leaked by a unknown crew member on set via Twitter. A "newer" version of the video was later released in June 2020, with most footage from the leaked version being either mirrored or removed completely.
History
May 12, 2020
A lot of rumors were surfacing on the internet that Doja had a secret music video for Like That she kept for a long time, there were also rumors that the video would be released on May 17, 2020, but due to the recent allegations at the time (she was accused of being racist and homophobic), there would probably be a chance of the video not releasing.
May 21, 2020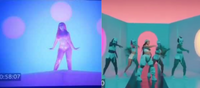 2 photos from the video was leaked from a "supposed" test screening of the video by a unknown person, claiming the video would be releasing on May 29. Luckily, one of Doja's team members quickly went to claim that the release date was false, but it was a picture from the video.
May 23, 2020
A full uncut print of the video was leaked by a crew member who possibly had a file from the video after it's shoot in March 2020. The video was slapped with a "modern" time stamp at the lower left corner of the screen. The video had neutral quality, with no effects being seen unlike the released version. The video also featured product placement which wasn't seen in the final version.
June 22, 2020
During a Instagram Live, Doja confirmed that she was fully aware of the leaked print and that the leaked version wouldn't be the official, also saying the video would be releasing soon. She also explained why she cut on the scenes saying most of the scenes from the original cut were absolute terrible quality plus her eyelashes kept falling off along with her outfits getting too tight.
June 25, 2020
A final version of the video was released onto YouTube, a lot of people praised it, but several people were very disappointed due to the confusing storyline of the video and the lack of the overuse to the same look.
Currently, the main HD unreleased footage unslapped with a time stamp has yet to be released or leaked in the future.