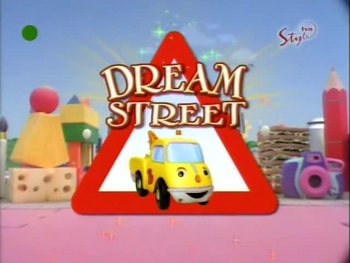 Dream Street was a British children's television series that ran from 6 May 1999 to 2002 on CITV. The show was narrated by British comedian Russ Abbot, and was aimed at children aged from 2 to 7. The show featured talking toy vehicles, which were radio controlled in real time. The series aired back on CiTV around 2008.
Findings
The missing episodes
Series 1
Hot Air [FOUND]
Musical Madness [FOUND]
Dinosaur [FOUND]
Jumping Jack [FOUND]
Snoring and Touring [FOUND]
Bossy Boot [FOUND]
Big Mouth, Big Trouble [FOUND]
Daisy's Deputy [FOUND]
Code Red [FOUND]
The Ghost of Peekaboo Park [FOUND]
King of the Road [FOUND]
Over the Rainbow [FOUND]
Jack the Joker
Surprise, Surprise [FOUND]
By the Book [FOUND]
Happy Butterday [FOUND]
Cool Kids [FOUND]
Monster Bunch [FOUND]
Topsy Turvy [FOUND]
Treasure Hunt [FOUND]
The Big Yellow Pipe [FOUND]
Games Day
Up, Up and Away [FOUND]
Disappearing Domino [FOUND]
Tech's Magical Carnival [FOUND]
Missing
The Big Pink Furry Thing
Dream Street Christmas Star [FOUND]
Series 2
Hot and Stinky [FOUND IN POLISH LANGUAGE]
Midnight Monstering [FOUND]
Building Block Blunder [FOUND]
Check Up [FOUND]
King for a Day [FOUND]
Beep Beep [FOUND]
Mr Fixit [FOUND]
Go Faster Half-Pint [FOUND]
Coughs and Sneezes [FOUND IN POLISH LANGUAGE]
Beans Means Bounce [FOUND IN POLISH LANGUAGE]
The Giant Sea Shell
Show and Tell
Bedtime
The Greatest Show on Earth
Ready Teddy Go
Gungey Goo Day
Daisy Fights the Flab
The Amazing Bounceroonie [FOUND]
Lollipop, Lollipop [FOUND IN POLISH LANGUAGE]
Marshmallow Monster [FOUND IN POLISH LANGUAGE]
Dream Street Fun 5000 [FOUND]
Odd One Out [FOUND]
Treasure Map [FOUND]
Rodney's Party Poop [FOUND]
Rumour, Rumour
Pop Goes the Movies
The Milk Round Race
The Talent Show
Genie of The Lamp
When Time Stood Still
Super Milk
High Flying Wild Bunch
Big Chief Rodney
Hot Air's Floaty Boat
Glow For It [FOUND]
Whodunnit
Buddy's Day
Gold Star Parade
Big Book of Magic
Community content is available under
CC-BY-SA
unless otherwise noted.