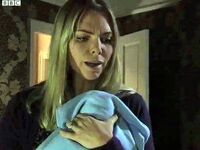 The Baby Swap is a particularly controversial storyline that occurred in the BBC soap opera Eastenders, which ran from New Years Eve 2010 to April 15, 2011.
The story involved two of the shows regular characters Ronnie Branning and Kat Moon both giving birth to baby boys, James and Tommy respectively, on December 30, 2010. The next evening, Ronnie discovers that her baby, James, has died from Sudden Infant Death Syndrome. In a grief-stricken state, Ronnie takes her lifeless child to the Queen Victoria Pub, where Tommy sleeps, and swaps the two boys, leaving Kat and her husband Alfie to believe their baby has died. Ronnie would subsequently continue to care for baby Tommy as her own (struggling to hide the guilt of what she has done) while the Moons where left to deal with the grief of allegedly losing their newborn, until Ronnie finally came clean four months later.
The storyline, when first conceived, was originally planned to go on much longer than it did (at least a year at the very least), but the showrunners decided to conclude the storyline early after it became the second most complained-about in the shows history.
Whatever original plans the showrunners had for the extended version of the storyline has not been revealed.
Edited Scenes
It's known that two episodes of the storyline received last minute edits. The unedited versions are unavailable to the public. The episode in which the swap itself occurred had three scenes edited down after they where deemed too upsetting in test screenings. These include:
The scene in which Kat appears in blood-soaked pyjamas after haemorrhaging: a shot where she throws her quilt aside to reveal her mattress in a pool of blood is edited so the scene switches at the moment she throws the quilt (though one can still catch a glimpse of the blood-stained mattress in the split-second before the cut).

During the heartbreaking scene where Ronnie discovers James dead in his cot, a shot is reportedly removed in which she reaches down and clasps James' cold hand.
The scene where Ronnie wonders across the Square with James when she suddenly hears Tommy crying from the top floor of the Queen Vic was reportedly altered so that Tommy's crying was toned down so that it wasn't as loud.
Additionally, the episode in which "Tommy's" funeral is held heavily reduced the shots of Kat holding her (allegedly) dead babies small coffin.
External Links
https://www.webcitation.org/5vDG9XOGF?url=http://www.google.com/hostednews/ukpress/article/ALeqM5g-hzagKYAQfAXSjXOVwn1oT2h-Xg?docId=N0313531293133248225A
Community content is available under
CC-BY-SA
unless otherwise noted.