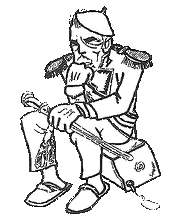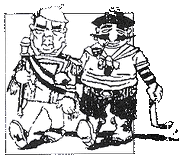 El Apóstol (aka The Apostle) was an Argentinian silent black-and-white animated film released in 1917.
It was directed, written, designed and animated by Italian-Argentine cartoonist Quirino Cristiani, whose two other animated features he made are lost as well. Character designs were made by Diógenes Taborda, a popular cartoonist at the time. Instead of using traditional cellulose animation, Cristiani would use flat puppets with rotating/removable members.
It is considered to be the first ever animated feature in history (being 70 minutes long, with a frame-rate of 14 images per second), but all known copies have been destroyed in a fire in 1926.
The plot would have been a political satire, about then-Argentinian-president Hipolito Yrigoyen, wanting to cleanse Bueno Aires of immorality and corruption; he mounts into heaven and encounters the god of thunder Jupiter himself. Using his lightning bolts, Yrigoyen strikes Bueno Aires and the city is engulfed in flames, burning into ashes. Content, he decides to start anew, but then awakens, finding out that this was all a dream and is forced to face the harsh reality of complicated politics.
The fire scenes of the climax would have actually been filmed live, with models built by architect Andrés Ducaud.

No cel or poster of the film remain, apart from a few character designs by Taborda and a photograph of the Buenos Aires model. Cristiani would later make another political satire animated feature starring Yrigoyen: Peludópolis.
References
http://www.awn.com/mag/issue1.4/articles/bendazzi1.4.html Page about Quirino Cristiani (also source of pictures)
Community content is available under
CC-BY-SA
unless otherwise noted.