Doctor Strange in The Multiverse o Madness - The Loop
Play Sound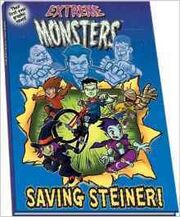 Extreme Monsters was a children's chapter book series that was created by Randy Meredith and Eric Smith and published by Penny Candy Press as well as Penny Candy Press's parent company Brighter Minds Media from 2005 to 2007 that was about the adventures of pre-teen monsters who played extreme sports.
History
Several of the books advertised a graphic novel adaptation of the books coming soon that was titled Extreme Monsters: Saving Steiner, which entailed how the Extreme Monsters members Val (a skateboarding vampire), Jinx (a street luging witch) and Wulf (an in-line skating werewolf) freed Steiner (a BMX biking Frankenstein monster) from his contract with Pendant Enterprises, the company behind the Extreme Monsters' rivals Team Pendant.
In spite of every advertisement for the graphic novel promising that it would be "coming soon", the graphic novel seems to have had its release indefinitely postponed, and every online store and book database listing the book states that it is out of stock and gives conflicting information about the book's release date and number of pages (for example, goodreads.com states that the graphic novel has 48 pages and was released on October 1, 2008, while Amazon.com states that the graphic novel has 62 pages and was released September 21, 2009), which makes it doubtful that Saving Steiner was ever released.
The chances of the material used in the graphic novel being recovered are very unlikely, as Brighter Minds Media went out of business in 2011. [1]