Doctor Strange in The Multiverse o Madness - The Loop
Play Sound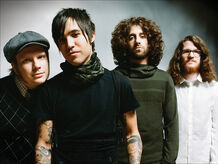 Fall Out Boy is an Illinois-rooted pop-rock band, one of the most popular to come out of the mid-2000s pop punk/alt pop rock boom. They have about six or seven unreleased songs with varying degrees of rarity to add to these achievements, and most of them are from the sessions to their earlier albums, like the obscure 2003 EP Fall Out Boy's Evening Out With Your Girlfriend and their 2005 breakthrough album From Under the Cork Tree.
Sometime in late 2010, a question was submitted into Yahoo! Answers. The asker was questioning about ways to find a list of unreleased tracks, and included in his list were the songs "Life on a String", "Cannibal", and "Big Reward", which were noted to be outtakes from 2007's Infinity on High. The question remains open to this day, though some answerers implied that they had heard and downloaded the songs. Contact with the asker is likely impossible, as the account has not been active since 2011.
In June of 2014, another inquiry of the existence of these elusive tracks was brought at the off-topic section of Warrior Cats Forums. With no leads to go on, the thread was deleted about twelve days after its creation, sinking the songs back into mystery.
Living Sources
https://answers.yahoo.com/question/index?qid=20100225043545AAPXJOV