The Mandalorian's Popularity | The Loop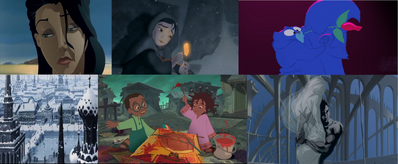 Early development for a third film began in June 23, 2002, with a working title of 
Fantasia 2006
. Plans were made to include 
One by One
 by Pixote Hunt and 
The Little Matchgirl
 by Roger Allers in the film before the project was shelved in 2004 for reasons unknown, with the proposed segments released as individual short films.
Destino is an animated short film released in January 1, 2003 by The Walt Disney Company. Destino is unique in that its production originally began in 1945, 58 years before its eventual completion. The project was originally a collaboration between Walt Disney and Spanish surrealist painter Salvador Dalí, and features music written by Mexican songwriter Armando Dominguez and performed by Dora Luz. In 1999, Walt Disney's nephew Roy E. Disney, while working on Fantasia 2000, unearthed the dormant project and decided to bring it back to life.
Lorenzo is a 2004 American animated short film produced by Walt Disney Feature Animation about a cat, Lorenzo, who is "dismayed to discover that his tail has developed a personality of its own." The short was directed by Mike Gabriel and produced by Baker Bloodworth. It premiered at the Florida Film Festival on March 6, 2004, and later appeared as a feature before the film Raising Helen; however, it did not appear on the DVD release of the film. Work on the film began in 1943, but was shelved. It was later found along with Destino.
One by One is a traditionally animated short film directed by Pixote Hunt and released by Walt Disney Pictures on August 31, 2004, as an extra feature on the DVD release of The Lion King II: Simba's Pride Special Edition.
The Little Matchgirl is a 2006 animated short film directed by Roger Allers and produced by Don Hahn. It is based on an original story by Hans Christian Andersen entitled The Little Girl with the Matches or The Little Match Girl, published in 1845.
Community content is available under
CC-BY-SA
unless otherwise noted.