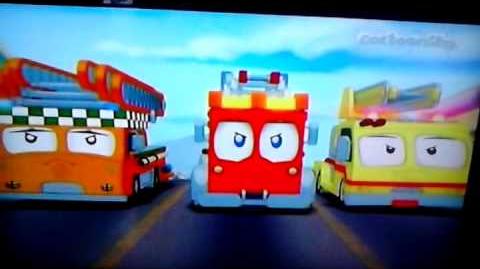 Firehouse Tales
is an American CGI animated cartoon produced by Warner Brothers Animation that ran from 2005 to 2006. It aired on Cartoon Network in the U.S. (under it's
Tickle U
block), and their sister service, Cartoonito in the U.K. and Europe. It is about a trio of firetrucks named Red (Jesse Moss), Petrol (Michael Adamthwaite), and Crabby (Richard Ian Cox), in command of the Chief (Ron Halder), the blue firetruck. This show wasn't treated well by Cartoon Network due to low ratings, and hasn't been seen in the U.S. since at least 2007, but it was airing in Europe until September 2014. This show never had a seperate DVD release (until in far future; but however, back in 2005, Bandai released a Firehouse Tales called Squirt the Firedog's Blazing House with Chief the Fire Truck featuring a sneak peak DVD from the show containing Stinky Bubbles and New Truck On The Block), and it isn't known to have been available on Netflix, iTunes, or Amazon Instant Video either. Only three episodes are available in it's original English language on the Internet (those being New Truck On The Block, Stinky Bubbles, and Petrol's Paint Job respectively), but there are some more episodes of it in Hungarian, (European) Spanish, Greek (formerly), and (European) Portuguese.
Findings
Update - 9/4/2016
The episode "Petrol's Paint Job" (the opening and credits are missing, because at the time, Cartoon Network in the UK would usually skip them both on a lot of their shows) has been uploaded by Lastofthetimelordz, and it is possible that he can upload more. https://www.youtube.com/watch?v=g84AmM_fVAk
Update - ?/?/2018
There are episodes of it in Greek, which aired on Star Channel's StarLand block. But now they are unavailable to watch because the user who uploaded them got terminated.
Community content is available under
CC-BY-SA
unless otherwise noted.