Doctor Strange in The Multiverse o Madness - The Loop
Play Sound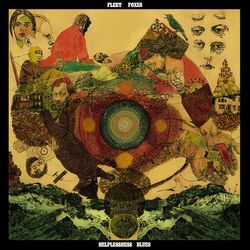 Helplessness Blues is the second Fleet Foxes album, released in 2011. The album featured a stylistic evolution for the band and garnered them critical acclaim, being looked at as a modern classic.
The album had a lengthy and troubled production, costing 3 years and much frustration between those involved. It started recording in 2009 with intentions for release that year. The band spent 60,000 dollars of studio money to record tracks for the album. Unfortunately, Robin Pecknold, the band's lead vocalist and songwriter, found the results to be less than satisfactory, apparently being too close in style to the band's self-titled album. The tracks were thrown out, and the band was required to pay Sub Pop records for the time and resources wasted.
The band got back together after a few extra delays. Having picked up a new multi-instrumentalist, the album took a much different musical direction, stripping back many of the signature vocal harmonies that made the band famous. The result was much more lyrically and instrumentally driven than it's predecessor.
Details on the sound of the original album are sparse and vague. It is not known if the finished album was a reworking of the thrown away tracks, or if the original tracks were completely different. None of the tracks have so much as been booklegged or leaked, a miracle in terms of the digital age in music. What is rumored, is that an extremely rare promotional CD passed around Sub-Pop in mid 2011 may contain a demo version of "Helplessness Blues". A person who claimed to hold a copy of the disc uploaded a song onto YouTube, supposedly being the demo. Unfortunately, it turned out to be done by a different Sub-Pop artist, though it was a different, unheard version of a song by the artist. This means that the uploader may have mistakenly uploaded the wrong track, meaning there still may be hope.