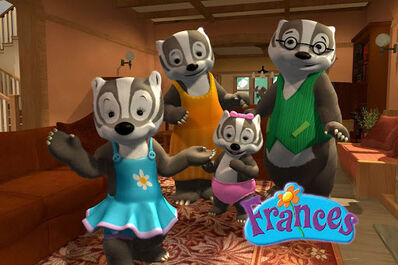 "Frances" (also titled: "Frances: Taking Chances") was a preschool kid show that ran from 2005-2009, owned by HiT Entertainement and The Jim Henson foundation. The show is based off a book that was released in the mid' 90's titled "Bedtime For Frances", which was a big success for children.
Despite the book being successful, The show had very little success, running for very little time and resulting in the series only having 6 episodes. The show started airing on PBS Kids Sprout in 2008 apart of the block "Summer Fun Fridays". Unfortunately, no airings have been uploaded anywhere however. The show also aired on TLC in Spain and Discovery Kids in the US from 2005-2007 and 2005-2006, respectively.
Only 3 episodes, that were released on the DVD Bedtime For Frances, have been found, including A Whiny Sister for Frances, A Cupcake for Frances and Bedtime for Frances. Another name for a episode, that wasn't released on the DVD, has been found. Which is Bread & Jam for Frances. The other 2 episodes's names are currently lost.
Advertisements of the show can be found in most HiT Entertainment releases from late-2005, such as Thomas & Friends - Calling All Engines (2005).
Community content is available under
CC-BY-SA
unless otherwise noted.