Wiki Targeted (Entertainment)
Play Sound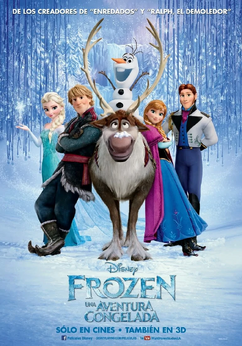 "Frozen: Una aventura congelada" is the name of the lost Argentinian Spanish dub of Disney's 2013 hit animated feature "Frozen"
History
It's not exactly known where the rumour of the argentinian dub came from, however most sources point to Doblaje Wiki. A Spanish language wiki based on foreign dubbing. The article for Frozen mentions the directors and voices of the Latin American dubbing. The original Latin American dub was made in Mexico, and the info about that dub is well known. The voices and directors of that dubs are all known. Just to name a few, Elsa was voiced by Mexican singer Carmen Sarahí, Anna was voiced by Mexican actress Romina Marroquín Payró and so on. The wiki page only mentions the original voices though, so it's still unknown where the info about the Argentinian dub was acquired.
International Dubbing Wiki is a wiki based on dubs and dubbers of movies from different countries, of course, being a wiki about foreign dubs, it's bound to contain a few mysteries. There is a page on the wiki for the foreign dubs of Frozen. One of the dubs mentioned is the Argentinian spanish dub. It claims the movie was shown in 2014, and that Elsa's singing voice is the only voice from the dub known. The voice was Mayra Calderón. It was also only shown at a film festival. Even that wiki didn't manage to find any info on that dub.
The Wikipedia Page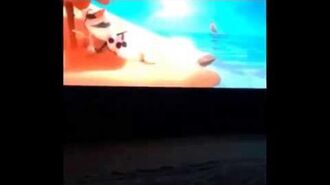 On the Spanish wikipedia page for Frozen, it showed 3 dubs. The European Spanish dub, which is readily available, the original Mexican dub, which also is available for viewing. It also mentioned an Argentinian version, however, it said the dubs was made in 2015 and also had a bunch of voices listed. It also said Martina Stoessel was Elsa's singing voice, Martina also sung the spanish pop version of Let It Go for Frozen's original English dub's end credits. Since then, the part of the page that mentioned the Argentinian version was deleted.
International Dubbing Wiki: Part 2
A user on IDW called Imjustthere messaged the founder of the wiki, AnnaElzaJ, a Polish woman. The full conversation is here, and it also contains info on the lost Peruvian dub as well. She mentioned that the Argentinian dub is probbably a hoax and that people shouldn't use it for rankings (videos where people rank the foreign voices of characters) and multis (compilations of foreign clips of movies and shows). However the video for the Argentinian version still exists, and it's agreed upon that Mayra is the singer. There is also a video showing an Argentinian preview for the film, but no clips or any other info on the Argentinian dub exist. It and the Peruvian versions are lost.