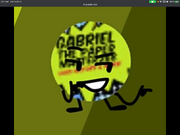 GabrielThe PaperMaster is a YouTube channel in 2015.
The Windows War
The Windows War is a currently lost logo short by GabrielThe PaperMaster, it was made around October 2019, & the video will likely never be found, because the creator lost the video on his gallery, but there is going to be a reboot, a spinoff series, announced in 2020, & will release in 2022.
Plot
The plot is about the Windows logos fighting, with guns, knives, & more.
Likeliness to be Found
The Windows War will probably never be found, it is also now a test for the series, but still, The Windows War is one of the 7 videos by Gabriel that are currently lost, & will likely never be archived, as no screenshots, or clips of the video currently exist.