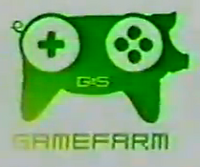 Gamefarm was a short-lived children's game show that aired exclusively on Nickelodeon GAS (Games and Sports for Kids). It was hosted by Ann Hu and Max Darwin, and was taped at Nickelodeon Studios, Florida in 2003. 
Episodes began with Multi-Gamer Tournaments, where three contestants would play online games against each other in "stables", and a fourth player would be connected through the internet. After two rounds, the participant who received the most points would receive the opportunity to face The Gaminator, a video game master that was dressed in black.
There is also video game news and sketches in between. These include Gamefarm Lab (Where the technology aspect of gaming is discussed) Gamertainment Tonight (Basically a knockoff of Saturday Night Live's Weekend Updates with a video game twist), and Human Video Game (Where a celebrity guest would play a physical game). 
Gamefarm Top 5 polls would also be held every week at Nick.com, including Top 5 Hippest Hairstyles and Top 5 Super Sidekicks.
The first two episodes were uploaded by UnknownNickelodeon in 2012, and promos were uploaded by Josh Leiberman and jgonascar in 2010. No other episodes, promos or footage at all for that matter, have been recovered. There was a DVD set on iOffer containing 5 episodes (allegedly including the ones uploaded to YouTube), but the listing has since been removed. The number of episodes that were produced are currently unknown.
Community content is available under
CC-BY-SA
unless otherwise noted.