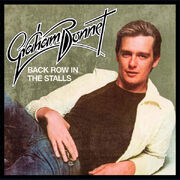 Prior to finding major success as part of Rainbow, the Michael Schenker Group, and Alcatrazz, as well as with his solo work (the Australian #1 cover of the Bee Gees' "Warm Ride" and the UK #6 hit "Night Games"), British rock singer Graham Bonnet was struggling to make it. Aside from an UK #5 hit with "Only One Woman" as part of the Marbles, success had eluded him. Then he appeared in the 1974/75 British comedy film Three for All as the frontman for the fictitious band, Billy Beethoven (then-wife Adrienne Posta co-starred). This led to the recording of an album entitled Back Row in the Stalls for DJM Records. It was never released, and the master tapes were long thought to be lost. Two tracks did survive over the years - "Ghost Writer in My Eye", released as a promo single in October of 1974, and the title cut, released on The D.J.M. Book of Records compilation (although the latter, like the rest of the compilation's tracks, fades after two minutes). Thankfully, a cassette dubbed from the master was found in the collection of producer Kaplan Kaye, and the album was finally given a release through Cherry Red's Hear No Evil Recordings imprint in 2016.
Community content is available under
CC-BY-SA
unless otherwise noted.