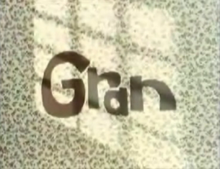 Gran is a British children's stop-motion animated television series that was created by Michael and Joanne Cole and aired on BBC1 in the UK in 1983, even though the release date is February 17 and it concluded on May 12, 1983 with the last episode entitled "Gran's Goat". The show aired again between on BBC1 between 1986 and 1992. The only main characters in this show are Gran and her grandson, Jim. Each episode is approximately 5 minutes. The series was directed and designed by Ivor Wood and it was narrated by Patricia Hayes. It was also animated by Derek Mogford and the music and lyrics were made by Bryan Daly. The series was produced by Woodland Animations. Only 13 episodes were ever produced.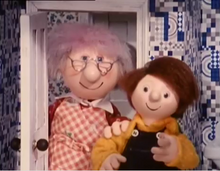 In 1983, there were children's books based on the series that were written by Michael Cole and illustrated by Joanne Cole. On Nickelodeon's Eureka's Castle, the episodes were shown in the United States as part of the series. In the Latin American, The series was aired on Cartoon Network's sister channel Boomerang between 2005 and 2006.
The series was released on VHS in the UK. The first tape was called Gran - 12 Classic Episodes which was released by Castle Communications and the second tape was called Gran featuring all 13 episodes in 1999 and it was released by Castle Home Video.
Synopsis
At first glance you may think Gran is like any other Grandma, but she's not. Along with her grandson Jim, she takes part in different crazy adventures. Each episode sees Gran performing weird and wacky tasks, growing her runner beans up a dinosaurs skeleton, hand gliding, knitting a giant scarf to wrap around her house in the winter and cross country motorbike racing. But one thing's for sure, she'll always be wearing her pink slippers.
Gallery
Trivia
Jim's catchphrase is "You really are the most surprising Gran!" which is heard at the end or near the end of every episode.
For unknown reasons, Jim's mother and father are never seen in the series.
Episodes
Theme song
There are lyrics to the theme song which are seen below:
Hello Gran, how are you? How do you feel today? I just came by to see if I could be of help in any way?
I always like to come and spend my time with you. You somehow seem to think of something great to do.
You really are the most, I think that I can boast. You really are the most surprising Gran! (Whistling)
Video
Community content is available under
CC-BY-SA
unless otherwise noted.