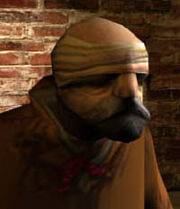 Many changes were made to Grand Theft Auto III during development, partly because of 9/11. For example, the police cars were changed from a New York style to the black and white pattern used by LAPD. Also removed were school buses and a few various odds and ends.
However, the most intriging removal has been that of a character named Darkel. By most accounts, the content for this character was completed, to the point of having his voice actor, Bill Fiore, listed as the character in the manual, along with the character texture file remaining on the CD-ROM.
Very little is known about the missions Darkel would have been involved with. It seems he would be a homeless anarchist. Rockstar has confirmed that he would have been involved in at least five missions, one of which was reassigned to another character. Despite rumors, Rockstar has officially denied that Darkel's cut was related to the events of 9/11.
It is unknown if Rockstar still has the audio and/or data files related to this character. The voice actor, Bill Fiore, recently died on October 3rd, 2014, so any answers about the content would have to come from the company itself.
Community content is available under
CC-BY-SA
unless otherwise noted.