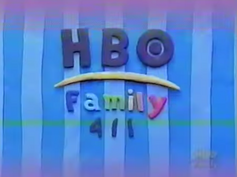 HBO Family 411 (or simply 411) was a 2D stop-motion interstitial series that used to air during program breaks on the HBO Family cable channel. It first aired in 1999, when the channel was first launched, and initially ran until 2000. The series ran for nearly two decades until January 2016, when HBO Family's look was refreshed, ultimately getting rid of the series and other shorter interstitials seen on the network. The shorts were designed for 8-10 year olds, and were produced by Toronto-based Cuppa Coffee Studios.
411 featured two pet characters: Rex, a yellow dog, and Mouse, a grey mouse. The two animal pals help each other out with helpful hints that are also learned by the viewer. According to Mike Gatti (the producer of the series), the characters had no dialogue and just only made sounds (at least Mouse did).
Episodes/Availability
So far, no episodes or clips have surfaced of the series, other than a quick snippet from a 1999 HBO Family promo which showcases several series/interstitials formerly aired on the network, plus an additional video (which is a schedule bumper from the former HBO Family Jam block - recorded in 2013) where the ending card with the two characters is seen for a split second, and quickly fading out. There were 40 episodes total produced.
The only other known information about 411 was that there was an episode dealing with friends and another dealing with hobbies. These were found on Cuppa Coffee's website listing the awards they won for various projects. On a side note, an article about Cuppa Coffee on a website named "Playback" brings up episodes about logging on computers and keeping a pet dish cold (this was confirmed to be the pilot by Mike Gatti)
Additional information/Updates
There are a few ways to potentially find the series, but one way that would be guaranteed to work is to check VHS recordings from HBO Family during the 1999 - early 2016 period that could possibly have a short, specifically recordings during the "Jam" block where seeing the series was more frequent and was there for it's entire run (2001-2016). However, the shorts could've possibly aired during normal programming on the channel (like after feature films).
User ThatisNoSmallThing contacted many people (via Instagram, email, etc.) who could possibly know a thing or two about the series, especially Cuppa Coffee members:
Adam Shaheen, founder of Cuppa Coffee - no response, however, this could be due to the company closing in 2017.
Bruce Alcock, co-founder of Cuppa Coffee - responded via Instagram and states that he left the company in 1995, so it's clear that he doesn't know anything about 411. He claimed he would dig around to find anything, however he eventually "came up blank".
Elaine M. Brown, designer for many shorts on HBO Family - no response, but she probably didn't work on the series to begin with.
Mike Gatti, animator of the series - responded via Instagram and says the footage was owned by Cuppa Coffee, and since the company is demised it's uncertain the master footage would ever be seen again. He suggests getting in touch with an HBO admin who knows about their archival programming.
Sheila Nevins, former president of HBO family/documentary programming - no response
Gallery
Community content is available under
CC-BY-SA
unless otherwise noted.