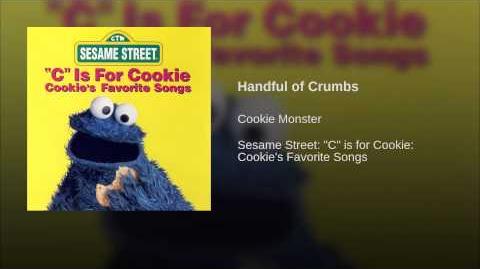 Handful of Crumbs was a Sesame Street song that first aired sometime during the show's thirteenth season (1981-82). It features Cookie Monster singing how he is sad that his cookie broke into crumbs, but at the song's conclusion, he has an idea: eat the crumbs! He performs the song backed by a country band of Sesame Street monsters, including one who would become Elmo (at the time performed by Jerry Nelson).
There are no known copies or screenshots of this short available online. But the remade audio was released on at least three official Sesame Street albums: Put Down the Duckie, C is for Cookie: Cookie's Favorite Songs, and Elmo's Lowdown Hoedown. The original clip was rerun multiple times during the 1980s, but for some reason it hasn't made it to YouTube.
UPDATE 20 June '17: Ferdasyn 80 has uploaded a Barrio Sésamo episode that contains the sketch at 13:26. Oscar just uploaded of a screenshot of the sketch on Muppet Wiki today. And good news as if wouldn't you know it, PumpkinJFriend (known as BigRedMonster86 on Wikia and Bigfatloser86 on deviantART) has finally uploaded a video of the sketch on YouTube recently today, despite it being dubbed in Castilian Spanish. Hallelujah for those Muppet fans who were always wanting to watch this sketch. Veston Bruno also uploaded a partial English dubbed video of the sketch on YouTube today as well.
UPDATE 17 Jan '20: Muppet Wiki eventually uploaded the entire English version of the TV version (albeit being logo-free as well) on FaceBook.
Community content is available under
CC-BY-SA
unless otherwise noted.