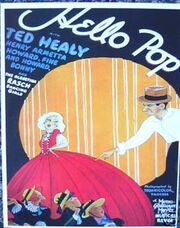 Hello Pop was the third of five
films which featured Ted Healy and his Stooges. The film was released by Metro Goldwyn Mayer on September 16, 1933.
Information
This film was released in 1933 and the working title was Back Stage. The film utilized two strip technicolor and was the 2nd of 2 films to use this format with MGM Studios. The film was destroyed in the MGM Vault fire in 1967 and was considered lost until in 2013 a print of the short was located in Australia in a private film collection. The film was publicly screened at the 2013 film forum on September 26th. Warner Bros released the short in 2014 as part of a collection entitled Classic Shorts from the Dream Factory: Volume 3.
Community content is available under
CC-BY-SA
unless otherwise noted.