Doctor Strange in The Multiverse o Madness - The Loop
Play Sound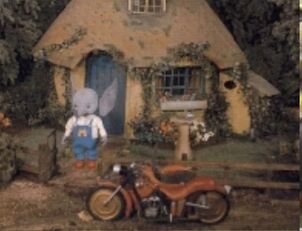 In 1975, Mary Turner and John Read adapted Katherine Tozer's Mumfie books into a television series entitled Here Comes Mumfie, using puppets to tell the stories.
Only half of an episode has been uploaded to YouTube, and the theme song to the show appears on a few children's CDs. Nobody knows why the show has never been re-released, possibly due to the Britt Allcroft adaptation, Magic Adventures of Mumfie, becoming more popular.
Ironically, some plots of the 70's episodes, such as "Things That Go Bang!" and "Scarecrow's Instant Birthday", were recycled into episodes of the Britt Allcroft series, and Nero's personality was also used for The Black Cat character.
Episodes
1. Mice can be Useful  
2. Uncle Samuel Disappears
3. Playing Chess Presents Problems
4. The 'L' Driver  
5. The Witch of Up-In-The-Sky
6. Follow that Note
7. The Petrol Station
8. The Lurkings  
9. A Twig from a Broomstick
10. Mumfie and the Haunted House
11. An Unusual Christmas Cake
12. Natty Socks' Socks
13. A Bottle Full of Trouble
14. Coughs and Colds
15. The Guilt Edged Invitation
16. The Enormous Safe  
17. Mumfie Buys a Sea Chest  
18. Nero the Cat  
19. Mumfie Makes a Strange Catch  
20. Mumfie at the Carnival  
21. An Unexpected Journey  
22. Under the Rainbow  
23. Uncle Samuel has a Cold  
24. The Runaway Dishcloth  
25. Mumfie does some Spring-Cleaning  
26. Snowscene Paperweight
27. The Trouble with Noise
28. Tom Tum - or Posts and Pans!  
29. An Hour to Spare  
30. Things that go Bang!  
31. The Missing Clock  
32. The Beanstalk  
33. Through the Yellow Door  
34. Lurkings, Lurkings Everywhere  
35. The Gingerbread Man
36. The Wrong Spell  
37. The Tale of Fairy Gold  
38. Frogs and Cauldrons  
39. Scarecrow's Instant Birthday  
40. The Talking Pillow  
41. The Time Patterns  
42. Brooms are for Sweeping  
43. A Parrot Moves Home
44. The Weeping Willow  
45. Naughty and Mischief  
46. Tit for Tat  
47. The Late Breakfast  
48. The Witch's Prisoner  
49. The Paper Dragon  
50. An Unusual Birthday Cake  
51. There and Back  
52. A Tangle of Voices