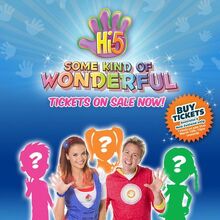 Hi-5: Some Kind of Wonderful was a 2013 documentary-style movie featuring and based on the Australian kids group, Hi-5. In the movie, Stevie Nicholson and Lauren Brant search for three new cast members after the departure of Casey Burgess, Tim Maddren and Fely Irvine. The movie follows the audition process and introduces the new cast which includes Ainsley Melham, Mary Lascaris and Dayen Zheng, as well as Stevie and Lauren. This cast would then appear in the 2013 television series, Hi-5 House.
Unfortunately the movie was only released in select cinemas in Australia, New Zealand, Malaysia and Singapore. After that it was never heard from again, with no DVD releases or television broadcasts. A few trailers have been uploaded onto the official Hi-5 YouTube channel, as well as interviews with the cast and reviews of the movie, but aside from that barely any footage has been found.
Community content is available under
CC-BY-SA
unless otherwise noted.