Imp, Inc.
Status
Found
IMP, Inc., is an unsold cartoon pilot created for Cartoon Network by Charlie Bean and Chris Reccardi. Travelling in an orbiting meteor, three Imps are up for review and are offered the opportunity to help a poor farm couple by granting them their wish for desperately needed rain to help their crops. They manage to deliver rain, but their hopes for promotion come crashing down when their meteor smashes the couple's crops. This cartoon aired on Cartoon Network's "Big Pick" weekend, on August 24, 25, and 26, 2001, and since then has never been seen again. IMP, Inc. is especially rare since it's one of the only cartoons of all the Big Pick cartoons that haven't resurfaced.
The only source material on the web is a small teaser of the cartoon, featured below. Reccardi had also uploaded the ending theme song onto Soundcloud, but not the pilot itself. It has since been deleted. He has, however, uploaded later pilots The Modifyers and Meddlen Meddows.
Availability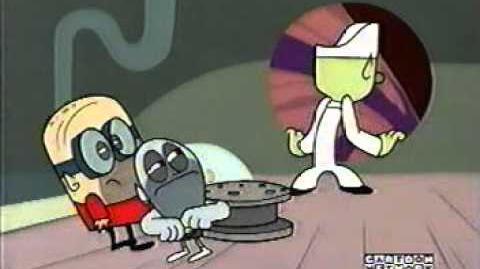 On Apr. 23rd, 2015, an Anonymous user going by the name of "book333" teased a Mega folder on a photo hosting site, with screenshots of the Mega folder, and the pilot with links and all info that could be used whited out in MS Paint. He also teased Uncle Gus and Captain Sturdy in some screenshots, and said
after a 4 hours search  I fave found that rarity there. Is not easy but the file is online on YouTube.  I have to combine some stupid words to see the episod at search.  A paintful step indeed!
It is unknown how he found this online, leaving tons of Lost Media Wiki members fuming with rage.
On Apr. 24th, 2015, Lost Media Wiki user The Negotiator found Imp, Inc. on a Spanish website (http://seriesdelos90.net/), along with another lost pilot, Major Flake. The pilot was found in a Mega folder along with other CCF Big Pick cartoons in Spanish.
https://mega.co.nz/#!1IgBRbzK!EuMKCF08c0vBuW8Zd9UCj5t_jrqZZ1WxU6TYQuuIZZU
On Apr. 19th, 2016, the English version was resurfaced by YouTube user "duh dee dee", albeit with lossy audio quality and occasionally choppy video.
Gallery
Community content is available under
CC-BY-SA
unless otherwise noted.