Wiki Targeted (Entertainment)
Play Sound
The Lost Media Wiki's article on the subject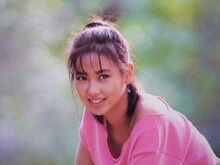 Yasuko Endo (遠藤康子) was a Japanese model, actress and upcoming pop idol, set to release her first single in May 1986. She committed suicide on March 29, 1986, and her debut single was never released.
Debut Single
IN THE DISTANCE Credits
Producer': Testuo Sakurai
Lyrics: Masako Arikawa (real name Emi Yamaguchi)
Composition: Testuo Sakurai
Arrangement: Toriyama Yuji
The single, possibly called "IN THE DISTANCE ~Haru ka Kanata~" (IN THE DISTANCE~はるか彼方~), was set to be released during May 1986, under the label Canyon Records. The master recording of the single was under the possession of RIV.STAR RECORDS (リバスター音産株式会社), however it was most likely destroyed after her death.
The two songs featured on the single were "IN THE DISTANCE" and "Telephone". No details are known about Telephone, apart from Yasuko's mother claiming that the lyrics were very similar to things written in Yasuko's private diary, and that Yasuko was very attached to the song.
The producer and composer of the song, Tetsuo Sakurai, released a cover of the song in his 1986 album "DEWDROPS". This means while the lyrics of "IN THE DISTANCE" are online, the lyrics for "Telephone" are still lost.
To this day, no cover art, radio recording, catalog number or promotional images for the single have surfaced online. Promotional material was printed in advance before her death, however Canyon Records demanded that everything was destroyed. It is unknown whether any copies or promotional material for the single still exists.
Death
On March 29, 1986 at around 5:40pm, Yasuko Endo was meeting with her mother and management company in a local coffee shop about her debut single. The discussion ended at around 7:10pm and Yasuko continued talking with her mother until 7:30pm. She then reportedly told her mother "Mama, I'm sorry", and entered the building next to the coffee shop. She jumped from the roof of the seven story building, where she was later found by a passer-by at 8:34pm. She was taken to hospital, however she was pronounced dead at 9:30pm.
It is rumoured that the reasoning behind her suicide was due to her having a relationship with a man, which her mother and management company did not approve of, however both parties denied this claim. Another theory is that she was overwhelmed and overworked from the pressure of her debut and could no longer handle it.
Videos
Lyrics
Hisashiburi no osoi asa wa
Nigai Coffee katate ni
Ameagari no sabita terasu
News Paper ochita Air Mail
Aitsu to kanojo wa are kara nakayoku New York
Shibaraku futari wo ore wa wasurete kurashiteta yo
Genki desu ka aitsurashii kimari monku tadoreba
Kanojo no koi yurushita hi no kaze no iro ga fui ni mieru
Pride kakaete orenara ima demo zutto hitori sa
Anmari kono mune shigeki suru na yo shiawase sou ni

Shigatsu ni wakareta soredake shirasetakatta to
Aitsu wa tegami no saigo ni hitokoto kaita
Gray no sora dake shibaraku nagameteita yo
久しぶりの遅い朝は
苦いコーヒー片手に
雨上がりの錆びたテラス
News Paper 落ちた Air Mail
彼奴と彼女はあれから仲良くNew York
暫らく2人を 俺は忘れて暮らしてたよ
元気ですか彼奴らしい決まり文句たどれば
彼女の恋許した日の風の色が不意に見える
プライド抱えて俺なら今でもずっと1人さ
あんまりこの胸刺激するなよ幸せそうに

四月に別れた其れだけ知らせたかったと
彼奴は手紙の最後に一言書いた
グレイの空だけ暫らく眺めていたよ
The first late morning in a long time
With a cup of bitter coffee in hand
The rusty terrace after the rain
News Paper fallen Air Mail
They have been friends since then, in New York
I've been living in oblivion for a while now
How are you doing, following his typical clichés?
I can suddenly see the color of the wind on the day I forgave her for her love
I'll be alone for a long time, even now, with my pride
I'm not going to be able to do it

The only thing he wanted to know was that we broke up in April
I'm not sure what to do with it
I've been looking at the gray sky for a while
Community content is available under
CC-BY-SA
unless otherwise noted.