In 2011 it was announced that Ne-Yo would produce an animated series with Cartoon Network. From 2011 - 2013, very little information was given over the course of it's development, which at most was two versions of the show's premise. As of 2014, there has not been any new information released by either Cartoon Network or Ne-Yo.
A year later, a revised version of the plot was stated
Other information
Not much coverage of I Heart Tuesdays exist and it should be noted that there was a video interview with Ne-Yo from Access Hollywood that is currently missing as well.
Ne-Yo also mentioned that he made the show for his sister or at least with his sister in mind.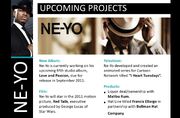 From the few articles that cover the subject one potential episode could have been about prom being moved to a Tuesday.

The most interesting detail is about the art style of the show. Ne-Yo made direct comparisons to The Boondocks and how it was animated in Korea and how expensive it was, he even said he'd settle for stick figures.

Looking for a trademark on trademarkia under Cartoon Network revels no results, However I Heart Tuesdays does show up as a predicted search. Likely CN dropped the Trademark when the show was cancelled.
 From a forum post discussing the show links several articles covering the show. A user mentions that the first link Access online had a video interview with Ne-Yo, though the page cannot be reached.  

External Links
Forum post discussing the show.
Mentioned in the 6th slide of this website
References
https://www.accessonline.com/ne-yo-closes-deal-for-show-on-cartoon-network-called-i-heart-tuesdays_article_45137
http://theboombox.com/ne-yo-creates-show-for-cartoon-network/
http://www.mtv.com/news/1659760/ne-yo-i-heart-tuesday-cartoon-network/
http://theurbandaily.com/2012/11/08/ne-yo-my-animated-show-wont-look-like-the-boondocks/
http://www.jetmag.com/entertainment/ne-yo-talks-r-e-d-forthcoming-cartoon/
https://ruhilasraras.wordpress.com/2011/03/16/neyo-is-a-cartoon/
Community content is available under
CC-BY-SA
unless otherwise noted.