Ikki Tousen: Shining Dragon is a fighting game based off the Ikki Tousen franchise, released in Japan on July 26, 2007 for the PlayStation 2.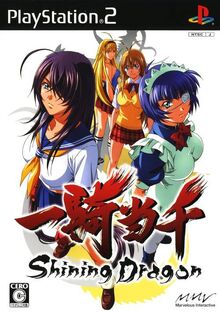 Valcon Games licensed the game for an English release, and fully completed translating the game into English before submitting it to the ESRB. The English version of the game was also at one point listed for preorder on Amazon, Play-Asia, and Target.com.
However, the ESRB proceeded to give the game an M rating for "Partial Nudity, Suggestive Themes, Violence", which was higher than the distributor was planning on. (By comparison, the game received a CERO C, or 15+ rating in Japan.)
The game's release was formally canceled by the distributor in May 2009, with the M rating being listed as the most damaging factor. A censored release was considered, but Valcon decided against it, commenting to Siliconera "We could remove all the stuff that makes it an M-rated game, but then we don't think the customers would be very happy buying an Ikki Tousen game without all the shredded clothing…"
No screenshots or gameplay of this English version have ever been released.
References
Community content is available under
CC-BY-SA
unless otherwise noted.