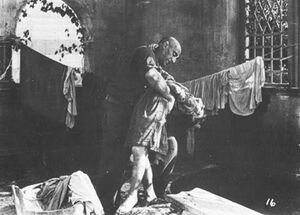 Il Mostro di Frankenstein (Frankenstein's Monster) was the third known film adaptation of Mary Shelley's Frankenstein novel, coming out in 1920. It was made in Italy, with some German fundings.
The movie, directed by Eugenio Testa, starred Luciano Albertini as Frankenstein and strongman Umberto Guarracino as the titular monster.
Several pamphlets and posters remain from the 1920s mentioning the movie, that was screened as far as Belgium and Egypt. Some of them misspelled "Frankenstein" as "Franckestein" or "Frankestein". There seems to be a French-language version of the film, alternately called Le Monstre (The Monster) or Le Monstre de Frankenstein (the original title, in French).
No copies are known to survive, apart from a still (shown on the right). Even at the time of its existence, many scenes of it were cut by censors. It has speculated that so many scenes were cut, that when the film was released, it appeared to only be 39 minutes long.
Links and references
http://frankensteinia.blogspot.fr/search/label/%E2%80%A2%20Il%20Mostro%20di%20Frankenstein%20%281920%29
Community content is available under
CC-BY-SA
unless otherwise noted.