She-Hulk Trailer Dropped - The Loop
Play Sound
DISCLAIMER: This article (or part of it) deals with Violent, Sexual, Profane, and/or Drug-Related Content. Viewer Discretion is Advised.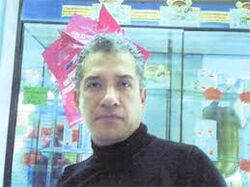 Instintos Caníbales o 12 Días (translated as Cannibal Instinct or 12 Days) is an unfinished novel by Mexican serial killer and cannibal José Luis Calva (June 20, 1969-December 11, 2007).
Calva had a very traumatic childhood; his father died when he was two years old and his mother brought men who were forced to be replacement dads to her house. A few years later he was sexually abused by one of his brother's friends. His early childhood may have been part of the reason he took the path that he ended up taking. He was married, having originally met his wife in 1996, however it ended in divorce and his now ex-wife ended up moving to the United States with his daughters.
Calva was arrested in October of 2007 when investigators went to his home regarding the case of his missing girlfriend, Alejandra Galeana, who had last been seen on October 6. When police arrived he was in the middle of a meal consisting of human flesh that he had seasoned with lemon. The police soon after found the mutilated body of Galeana. Also recovered from the scene was human flesh in the refrigerator, cooked human flesh, bones in a cereal box, a picture of Hannibal Lecter and the novel. He was charged with two murders however more are suspected. Ultimately, he committed suicide in prison, just a few months after his arrest.
According to an article online, the novel deals with subjects like cannibalism, sex,  sadomasochism and coprophagia. The article also states that there may have been more texts (including poetry and other stories) discovered at the scene, however this has not been officially confirmed.
Due to the nature of the texts it is unlikely that they will ever be released.