Wiki Targeted (Entertainment)
Play Sound
The Lost Media Wiki's article on the subject!
UPDATE: FOUND on April 4, 2015, by Vimeo user Jorge Anorve.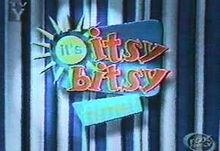 It's Itsy Bitsy Time! is a 1999 children's TV show that aired on the Fox Family channel in the United States and Treehouse TV in Canada from September 1999 until August 2002. The show hosted several children's cartoons from across the world, including 64 Zoo Lane, Tom and Vicky, The Animal Shelf, Budgie the Little Helicopter, and Charley and Mimmo. 
The Preview Promo VHS
Up until March 27, 2015, YouTube user "ThatGuyWithTheVHS" held a copy of a preview screening VHS of It's Itsy Bitsy Time! (available specially through the Fox Family channel) on YouTube. However, as of March 27, 2015, his account has been terminated, and his videos are no longer available for viewing. The tape appeared to be available for sale on Amazon.com (link to the tape in the "References" section), perhaps years or even over a decade ago, but has been unavailable for purchase for quite some time.
UPDATE: August 25th, 2015
A preview tape has been listed on Amazon by Hibooks for $100.
Actual Episodes
On April 4, 2015, Vimeo user Jorge Anorve uploaded an actual episode of It's Itsy Bitsy Time! from a 2000 Fox Family Channel airing. Citing concerns over video length and potential copyright claims, Anorve uploaded only the intro, the transitions, and the ending credits. Regardless of any potential concerns, all cartoons and live-action shorts that have appeared on It's Itsy Bitsy Time! are available on YouTube.
It's Itsy Bitsy Time! can be viewed on Vimeo here.
Images
Below are some images from It's itsy Bitsy Time!
References
It's Itsy Bitsy Time! from TVGuide.com: Retrieved March 26, 2015.
Promotional Screening tape for It's Itsy Bitsy Time! on Amazon.com: Retrieved March 27, 2015.
It's Itsy Bitsy Time! on Vimeo: Retrieved April 4, 2015.