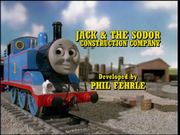 Jack and the Sodor Construction Comapany was Thomas the Tank Engine & Friends' spin-off series that was supposed to air on television for spring 2003, but it was cancelled because HIT Entertainment already received its own construction show, Bob the Builder. That's why in 2006, the mini-series' episodes were released on DVD as listed.
Episodes
A Visit from Thomas (v)
Jack Owns Up (x)
On Site with Thomas (v)
Percy's Scary Tale (x)
Kelly's Windy Day (v)
A Happy Day for Percy (v)
A Tale for Thomas (v)
Thomas and the Moles (v)
Percy Helps Out (v)
The Tortoise and the Hare (v)
Thomas' Trusty Friends (v)
Alfie Has Kittens (v)
Mud, Glorious Mud (v)
However, only 11 episodes were released in widescreen (v) while two of them, Jack Owns Up and Percy's Scary Tale, were released in full-screen (x). That's why the widescreen versions of these two episodes are only available on Virgin Media on Demand UK and the HQ copies never exist. BUT It has been confirmed that these 2 episodes were released on a promo DVD that were given out in a British newspaper (The Mirror).
The first two episodes, Jack Jumps In and A Friend In Need, were broadcast on television as part of Thomas & Friends' sixth season.
☀http://www.ebay.co.uk/itm/THOMAS-FRIENDS-CHILDRENS-FAVOURITES-MIRROR-PROMO-DVD-/371542819283?hash=item5681ad81d3:g:laUAAOSw7FRWWxUJ
These two lost episodes were also released on the American DVD: On Site with Thomas.
In 2017 of May 8th, the lost widescreen versions of the two episodes were finally released on the UK iTunes edition of Thomas' Trusty Friends.
13 more episodes that were cancelled exist as listed.
Cancelled Episodes
No Dozer is an Island
Friendship Story
Safety First
Treasure Hunt
Snow Rescue
Bossy Byron
The Importance of Being Patrick
Pop Goes the Diesel
Jack and the Quack
Alfie Has a Secret
Isobella Gets Steamed
Jack and Alfie Swap
Kelly's Heroes
There is also a character named Nigel who was gonna be in the spin-off series, but being dropped at the last minute. The Snowstorm Trackmaster models of Oliver, Byron, Kelly, Max, Buster, Patrick and Nelson claim that they could have promoted one of the episodes: Snow Rescue.
Gallery
Videos
Community content is available under
CC-BY-SA
unless otherwise noted.