Doctor Strange in The Multiverse o Madness - The Loop
Play Sound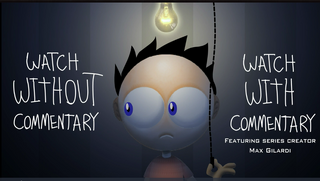 Jerry is a web series created by HotDiggedyDemon, that is about the hilariously miserable life of Jerry. The series only has 5 episodes, but it has a timeless charm to it.
In the Newgrounds version of Jerry: The End, the creator of the series (Max Gilardi) added a commentary track in it, thanks to the magic of Flash. However, Newgrounds themselves change the video file on there from a swf to video, so now it is unable to get to the commentary, and since the Newgrounds version was the only way to get to it, the commentary is now lost.
UPDATE:
Original SWF file of the short, as well with the commentary, was found.
http://uploads.ungrounded.net/516000/516609_FINALJerry_THEEND.swf?123