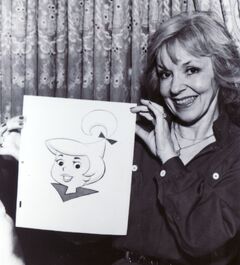 In 1988, Hanna-Barbera started production on an animated film adaptation of their series The Jetsons. The original cast was hired to reprise their roles, save for the then-recently deceased Daws Butler, who had voiced Elroy.
However, at a later point during production, when Janet Waldo was still cast as Judy Jetson, Universal Studios executives and the manager of the pop star Tiffany (who had contributed three songs to the soundtrack) mandated that the part of Judy be recast, as it would help promote Tiffany's career and attract younger audiences. Waldo was unceremoniously let go from the film, and all the lines she recorded as Judy were then re-recorded by Tiffany.
Waldo was upset by this turn of events, as was casting director Andrea Romano. The latter of the two had even asked to be left uncredited for the film due to worry of receiving blame for the decision. The film was to originally be released in December 1989, but was delayed to 1990 to avoid competition with other movies. It was a box office flop, and the performance of Tiffany as Judy Jetson became widely criticized.
It is unknown if Janet Waldo's original vocal track for the film had survived to any degree, or if it was immediately wiped or lost over time. However, a few lines recorded by Waldo are still (subtly) heard during the film. These include:
When George announces to his family about being promoted to vice president, Waldo as Judy can be heard saying, "Way to go, Dad!" while the rest of the family cheers.
After George presses the button to start the plant, Waldo as Judy can be heard saying, "Yay, Daddy!" while everybody else cheers. This particular line by Waldo can be heard again when George convinces Mr. Spacely to shut down the factory.
When Judy Jetson and Apollo Blue are in the hologram, and Judy falls through the hologram tree, Apollo asks her if she's alright. Judy responds, "Uh... I think" and that line is said by Waldo.
When the family convinces George that the plant is destroying the Grungees' home, Judy says "It's more than a city. It's their entire world. You're destroying it and them." This is the only full line of dialogue said by Waldo that's heard during the film. Oddly, it was left in for unknown reasons (either by accident or most likely since the line is spoken off-screen and people would assume that Jane who says this; however, the DVD subtitles clearly confirm it's Judy who says the line).
Community content is available under
CC-BY-SA
unless otherwise noted.