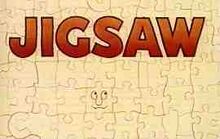 Most episodes of the well remembered British kids TV show are some what lost, the BBC has footage as it was used as clips for Charlie Brooker's 'Screenwipe', but there is no way for the public to view most episodes, with only one episode on youtube and a few short clips featuring the often remembered Mr. Noseybonk. The show had six seasons. Youtuber Ashens made Noseybonk popular after his short youtube series 'Noseybonk Returns'. Also, look out for the Jigsaw annual and other books that were published.
Videos
Full Episodes
Community content is available under
CC-BY-SA
unless otherwise noted.