Many people are already aware of the previous movie adaption of Hirohiko Araki's popular manga, "Jojo's Bizarre Adventure," by Studio APPP and of its poor success in Araki's eyes. Although, it has been recently found out that Studio APPP was also in production of an alleged sequel film titled ​JOJO'S BIZARRE ADVENTURE: Battle Tendency.​ This film was suppossedly to adapt the second part of Araki's manga, "Battle Tendency", but was unfortunately cancelled due to the first movie's failure. It is unknown if any footage of the film even exists, with only a few storyboard images of the film leaking onto the internet. Most recently, the channel "Did You Know Anime" has recently covered this in their recent trivia/analysis video of the series. A Reddit user by the name of Maxfan1089 has recently uploaded 25 scenes of the storyboad the /r/Stardust Crusaders section of Reddit. It has also been discovered that an eBay user by the name of Animationinkarchives (44523) has been in recent possession of the production pages, and is currently selling them for $19.95 each.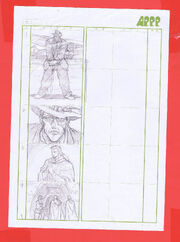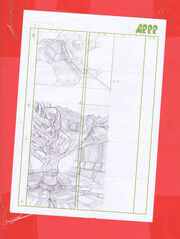 Community content is available under
CC-BY-SA
unless otherwise noted.