DISCLAIMER: This article (or part of it) deals with Violent, Sexual, Profane, and/or Drug-Related Content. Viewer Discretion is Advised.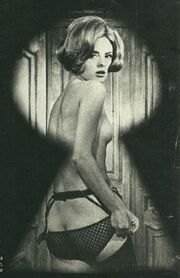 Juliette is an unfinished 1970 film directed by Jess Franco that stars Soledad Miranda, Paul Muller, and Alberto Dalbés. It was supposed to be about Juliette, a beautiful woman who seduces and murders men. She frequently goes to a church to pray for forgiveness for her crimes and is noticed by a local man who is drawn to her religious fervor. The man rents a room next to Juliette's apartment and, through a keyhole, witnesses her crimes unfold. Eventually, the two meet and the story ends in death and blood.[1]
Part of Juliette was shot around the same time as She Killed in Ecstasy. Tragically, on the 18th of August 1970, Soledad Miranda was about to sign a contract that would make her a star but was killed in a car accident in Portugal. Only 40 minutes of Juliette was shot and the project was cancelled. The unfinished footage is rumoured to have been in Franco's possession but not much is known beyond that.[2]
References
Community content is available under
CC-BY-SA
unless otherwise noted.