Tags: apiedit, Visual edit

 

(Added Categories)

 

Line 6:
Line 6:
 
 
 

== Found Footage ==

 

== Found Footage ==

−

Little footage of the concert can be found in the "K3 in Switzerland" Special, although the sound is muted and the studio version of the song Tele-Romeo is put over it. Raw footage of two songs that were sang were found on YouTube in a bad quality, they are now deleted.

+

Little footage of the concert can be found in the "K3 in Switzerland" Special, although the sound is muted and the studio version of the song Tele-Romeo is put over it. Raw footage of two songs that were sang were found on YouTube in a bad quality, they are now deleted.

 
 
 

== Updates ==

 

== Updates ==

Line 12:
Line 12:
 

== Trivia ==

 

== Trivia ==

 

* The reason why this and the previous concert didn't get a DVD release is because K3 was owned by NielsWilliam. When it got bought in 2003 by Studio 100, every concert got a DVD release.

 

* The reason why this and the previous concert didn't get a DVD release is because K3 was owned by NielsWilliam. When it got bought in 2003 by Studio 100, every concert got a DVD release.

 
+

[[Category:Lost Music]]
---
Latest revision as of 10:49, 9 April 2019
K3 - Tele-Romeo Show is a concert from 2001 by K3 to promote their album Tele-Romeo.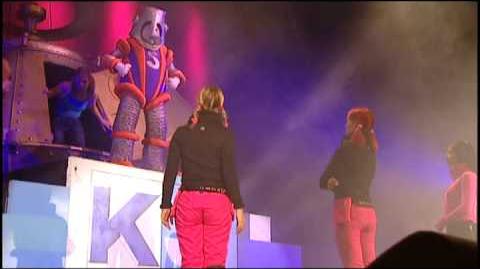 K3 is a Belgian girlband making pop music, but their target audience being children. The Tele-Romeo show was their second concert, but it never saw a DVD release (Along with its successor "De Wereld van K3" Which was made to promote their Alle Kleuren album) Unlike their later concerts, which all saw a DVD release.
The concert was about the members of K3 going to space and meeting all sorts of character. It is similar to their latest concert "K3 in de Ruimte"
Found Footage
Little footage of the concert can be found in the "K3 in Switzerland" Special, although the sound is muted and the studio version of the song Tele-Romeo is put over it. Raw footage of two songs that were sang were found on YouTube in a bad quality, they are now deleted.
Updates
Trivia
The reason why this and the previous concert didn't get a DVD release is because K3 was owned by NielsWilliam. When it got bought in 2003 by Studio 100, every concert got a DVD release.
Community content is available under
CC-BY-SA
unless otherwise noted.