Doctor Strange in The Multiverse o Madness - The Loop
Play Sound
The Lost Media Wiki's article on the subject!
Overview
Keep Left is a semi-active wonky rock band that Phineas & Ferb creator Dan Povenmire collaborates in.
The main band members are Michael Culross Jr, Mike/Michael Walker, Dan Povenmire, and Carl Williams. All four (along with Jeff "Swampy" Marsh) are credited for having written "Today is Gonna Be a Great Day", the main theme for Phineas and Ferb. Michael Culross Jr also continues to write songs for Phineas and Ferb, most often just listed under Michael Culross.
The band probably had its formative years some time in the 80s while Dan was in college. They actually released two professional albums-- the first of which has almost no proof of ever existing on the Internet, currently. In-fact, perhaps the most prevalent information about the band on the Internet stemmed originally from Povenmire's own YouTube channel, where he posted two performances by the band. Both albums also used to be available on aurec.com, previously a CD publishing website.
Keep Left, 1996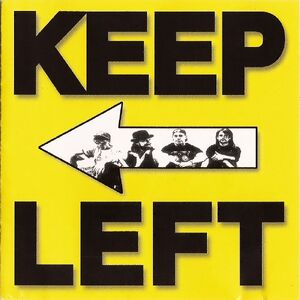 Very, very recently, Keep Left's self-titled first album appeared on ebay.ca, from exactly one lister.
Quoted from the listing:
"This is their self-named debut album, featuring 12 songs,
produced by Keep Left and mixed by Bruce Bouillet.
Olvera Street
Public Service Announcement
When She Wears Black
Karey Likes to Sing
Bigger
Nobody's Home
Ida Marlowe
Keep the Devil Down
The Pencil Song
Sherry Wants a Baby
Angela
River's Edge"

(Side-note: Public Service Announcement is also listed on IMDb as the themesong for a little-known political satire show called Gab's Blabs ... a show which, coincidentally, appears to have disappeared entirely. Also, even more interestingly, in a recent performance, Public Service Announcement was revealed to have been the source of the long-standing running joke for Phineas and Ferb, "Yes, yes I am.")
UPDATE 4/26: The album has been RECOVERED, after 18 years of obscurity!! In related news, the album is REALLY good and even better than I personally ever dreamt. There's lots of hilarious stuff hidden in the album artwork, too, especially in the fine print on the back. Also, in a surprise turn of events, there are TWO extra tracks at the end labelled Bonus!
Album Download in MP3 Format (.zip, 81MB)
Album Download in FLAC Format (.zip, 372MB)
Album Scans w/ Album Art & Lyrics (.zip, 6MB)
Lyric transcriptions coming soon.
Letters from Fielding, 2000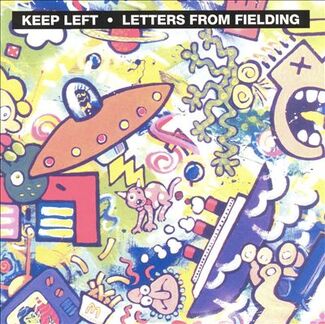 While currently out-of-print, Keep Left's sophomoric album is still plenty available in the Used & New section on Amazon. As a precaution, if ever it disappears entirely, the original poster intends to make it available on this page, as well.
As of 2017, Letters From Fielding is available on several streaming services including Spotify and iTunes.
The tracklisting is as follows:
I Took Your Mom to Disneyland
Fielding Went Bowling
Barnaby Jones
Mister Go
Man Bites Dog
Not Like Chocolate
They Got 'em Wrong (about 2 days)
Throwing Things at Cars
Numb
So Much Water
Drunk Again
24 Hours Behind
My Girlfriend's Mom
God and Elvis
(Bonus Track)
Photos