Kimba the White Lion (Japanese: ジャングル大帝) is an anime series created by Osamu Tezuka that originally aired on Fuji TV from 1965-1966. Numerous dubs have been produced, but many of them are difficult to find.
1993 Canadian Dub (Partially Found)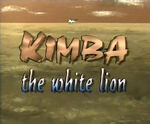 This second English dub of the Kimba series was produced by Landmark Entertainment Group Inc. and recorded in Toronto, Canada by Zaza Sound. It broadcasted all over the world and has been used as a basis of many newer dubs. The last year to air this version of Kimba in the US was in 2010.
The first twenty episodes were released on home video and DVD In the US, Canada and Australia. [[1]] The only possible lead to find the ladder episodes is through home-recorded TV airings. However, the total number of episodes produced is unknown due to poor documentation of the dub and sources.
Catalan (partially found)
Main article: Kimba the White Lion (lost Catalan dub)
A Catalan dub of the series called Kimba, el lleó blanc has previously aired on Canal Nou Dos. Not much is known about this dub. The only material that has resurfaced are a few songs and a very short clip from episode 51.[1]
Finnish subtitles (Partially Found)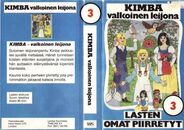 In 1989, a Finnish subtitled version called Kimba valkoinen leijona was distributed by Tamline Ky and released on VHS in Finland. It subtitled the Italian dub. Each cassette was 45 minutes long and contained 2 episodes. In 2011, a torrent containing one tape rip was uploaded. It contained the two episodes, "Volcano Island and "The Troublemaker"[2][3].
French (Lost Onward Leo 1971 Dub)
Main article: Jungle Emperor Onward Leo! (Lost 1971 French Dub)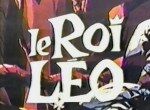 A french dub was produced for the second series (Jungle Emperor, Onward, Leo!) in Quebec and aired in Canada in 1971 and in Switzerland in 1972. Since a new dub was produced due to a French-Canadian dub embargo that was set in place in 1987, this dub has never resurfaced and promptly been forgotten about. All that was been found after over 40 years off the air is the intro sequence and voice actor/episode information.
Hebrew (lost, existence unconfirmed)
It has been claimed that there is a Hebrew dub of the series called קימבה האריה הלבן. No evidence of its existence has been found so far. Currently, the earliest known reference to this dub is a 2008 page on a Kimba fansite.[4] It's unclear where this information came from.
Persian (partially found)
Main article: Kimba the White Lion (partially found Persian dub)
کیمبا شیر سفید is the Persian dub of Kimba the White Lion. It previously aired on IRIB TV2.
Russian (lost)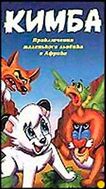 Кимба is the Russian version of Kimba the White Lion. It's unclear whether this is a dub or a voice-over. It was released in 2000, and could be purchased from Arena Video, but the website has shut down. The only thing that remains is a low quality picture of the front cover.[5]
Thai (partially found)
คิมบ้าเดอะไลอ้อนคิงส์ is the Thai dub of Kimba the White Lion. Not much is known about this dub. It's unknown if it ever aired on TV. It was released on VCD in 2002 by a company named SEIGA. At least 5 volumes were released, but volume 1 is unaccounted for, and volumes 3-5 haven't been uploaded online.
References
Community content is available under
CC-BY-SA
unless otherwise noted.