Shortly after its smash-hit release, the beloved popular Disney Japanese RPG video game series Kingdom Hearts was going to have its own animated series on the Disney Channel. The project began back in 2002 by Sean Kearsley, the show's writer and director. The series was supposed to have an anime-like art style and feature the plot, characters, and Disney worlds just like in the games. Early drafts and storyboards were drawn and then presented to Disney officials. However, Disney turned down the project and the early drafted pilot because they thought it was "incredibly dark" for a show for its channels and audience.
In 2014, the creator posted storyboard panels of the supposed pilot on his DeviantArt and a YouTube user by the name of Brandon Gonzalez interviewed Kearsley about his past project.
Fans hold onto hope that one day Disney will have a Kingdom Hearts series air onto their channels, since Gravity Falls became a popular series with a dark and morbid premise. The only thing that exists of now is the early storyboard pictures and Sean Kearsley's earlier drafts of the show.
Early Drafts and Storyboard Art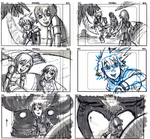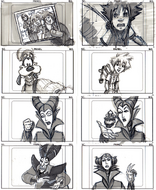 *These are the early drafts of the storyboard art of the pilot episode. It shows Sora, Kairi, and Riku on the Destiny Islands talking in a couple of shots. Then, it shows Maleficent corrupting Riku and Sora meeting Donald and Goofy, later fighting against the Heartless and Jafar in the world Agrabah (Aladdin). In one of its final shots, it shows a evil-looking Riku, which may be one of the reasons why the show was canned for dark content.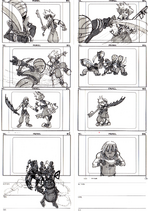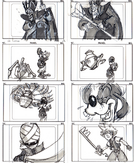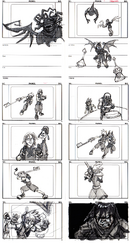 Community content is available under
CC-BY-SA
unless otherwise noted.