Wiki Targeted (Entertainment)
Play Sound
The Lost Media Wiki's article on the subject!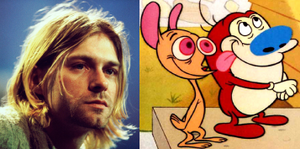 In 1991, before Kurt Cobain hit it big with his band, Nirvana, he was a struggling, starving musician. One of his many alleged stabs at fame was penning a song for the popular animated television series, Ren and Stimpy. Cobain has been said to have recorded the song on the cheap but felt proud of it. According to Ren and Stimpy voice actor Billy West, studio executives at Spumco Studios heard the song, thought it was awful, and then threw it out. Shortly after this, Nirvana became famous with their second album, Nevermind, making the Spumco and Nickelodeon executives consider their decision to be a mistake.
Only Billy West has ever talked about this story, but nobody else at Spumco or Nickelodeon, nor anyone in the Cobain estate have confirmed nor denied this story, making it a mystery as to whether or not it actually happened. However, it has been proven in the Nirvana book, Come As You Are, that Cobain was indeed a Ren and Stimpy fan. The book includes a photo taken on New Year's Day 1993 of Cobain with his plush Ren, with the caption reading, "Kurt with close, personal friend, Ren Hoek."
If this story is true, and Kurt Cobain really did record a song for Ren and Stimpy, while some copies of it may still exist, the song has never been released as far as the general public knows. The alleged version Spumco had was trashed, so none of the executives at Spumco nor Nickelodeon would hold a copy. Still, Cobain's estate is yet to comment on the matter at all. Many Ren and Stimpy fans who are also Nirvana fans are saddened by the fact that Cobain was rejected by Spumco, but remain hopeful that such an occurrence did happen, and that the song will someday be heard once more.
In 2015, the soundtrack to the documentary film about Cobain's life, called Montage Of Heck, was released. It was entirely made up of home recordings hat Cobain made between 1986 and 1994. Many speculate that one of the songs on this album might be the song that Cobain submitted to Spumco for Ren and Stimpy. Some believe it to be the opening track, titled The Yodel Song. Others believe it to be Beans, Clean Up Before She Comes, or perhaps even one of the two Kurt Montage tracks. However, no one in the Cobain Estate, Spumco Studios, or Nickelodeon has commented on the matter. In 2020, the subject of Kurt Cobain's Ren and Stimpy Theme song still remains a mystery.

Update: a YouTuber by the name of ReD Sh0ttE has talked to Billy West and billy is most certain it doesn't exist. https://m.youtube.com/watch?v=i-eGK-CpFLE