The mobile games based on LEGO Ninjago are very popular, but many do not know that the first entry, LEGO Ninjago: Spinjitzu Scavenger Hunt, based on the January 2011 pilot episodes of the TV series LEGO Ninjago: Masters of Spinjitzu, is lost. The game was released in 2011, but was pulled from the App Store by The LEGO Group in 2013 for unknown reasons. The game can no longer be played on newer iOS devices, since iOS 11 does not support old 32-bit applications.
Information
The game involved the player battling in various maps with their spinner, using the rotation feature on iOS devices to move around. The player battled enemies by increasing their speed and hitting into them to do damage. Sensei Wu serves as the guide and first unlocked character of the game. The logo of the game features the red ninja Kai, and has the same picture as the logo for the 2011 LEGO sets.
The Story Mode of the game required the player to complete quests to move onto the next one, unlocking arenas and other things along the way. Some quests ask the player to scan an object from one of the actual 2011 LEGO Ninjago sets to complete the mission, though strangely, the quest can simply be skipped.
The Battle Arena is another mode, where the player can play as a character of their choice and battle another character to earn more coins, which can be used to unlock more gear, locations, and characters.
The only video that is known to prove its existence is here: https://www.youtube.com/watch?v=jnPw52DSB-4 as well as some photos.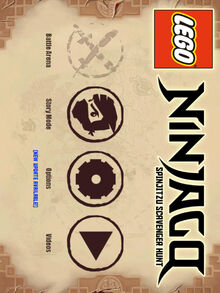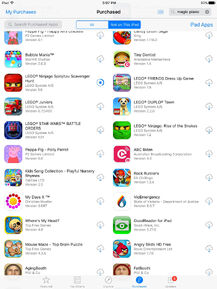 In the video description, the following information is given:
Follow Sensei and his ninjas in training (Kai, Cole, Zane and Jay) as they fight to protect the land of Ninjago from Garmadon and his evil skeleton army.
Win coins and unlock new gear for your ninja by going on a scavenger hunt to local toy stores to scan real-life Ninjago boxes for weapons, equipment and other ninja essentials.
Master spinjitzu on your Apple device -- tap your ninja to get him spinning super fast, then tilt your device to send him crashing into your enemies!
Fight your enemies in hand-to-hand spinjitzu combat!
Build your own unique ninja and take him into battle against Garmadon and his henchmen.
I hope that this article can spread some information about this lost game.
Community content is available under
CC-BY-SA
unless otherwise noted.