Doctor Strange in The Multiverse o Madness - The Loop
Play Sound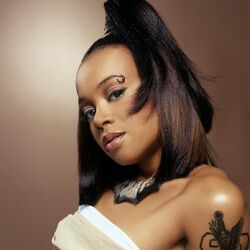 R&B/rap singer Lisa Lopes, (more commonly known by her stage name, Left Eye), from popular girl-group TLC had planned on going solo, following TLC's increasing popularity throughout the 1990s. In 2001 she released her first and only solo album, Supernova, which received a mixed reception. She had planned on releasing (and was well into the production stage of) a second album, titled N.I.N.A., which had her working with 1970s glam-rock legend David Bowie. Tragically, she was killed in a car crash on April 25, 2002 and the incomplete album was inevitably scrapped.
N.I.N.A. was slated for a posthumous release by Suge Knight (head of Death Row Records, the label to which Left Eye was previously signed), who stated that he had intentions to release the album in October 2002, however, for whatever reason, this simply never happened.
An album was released in 2011 under the name N.I.N.A., but it is just remixes of songs from her first album; some sources claim that two songs on this album are from the original N.I.N.A. recordings, although this has never been officially confirmed/denied.
Possible Photoshoots: