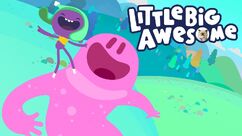 Little Big Awesome is a children's animated cartoon only available for Amazon Prime video. The show features a mixture of animation, puppets and live action. 2 pilot episodes were created, the 1st one being made back in 2010 and was called "Gluko and Lennon", and one made in 2016. The 2010 pilot can be watched on Viemo, but the 2016 pilot is completely lost. There were many diffrences between this pilot and the show today, such as a different, much shorter theme song which was an instrumental (if you don't count the vocalizing) version of the "You're number one" song from the 2010 pilot, and Lennon having the voice of a grown man instead of a high pitched cute voice.This was because he was voiced by James Arnold Taylor instead of Jessica McKenna at the time. The pilot was made into an actual episode when the show first debuted, with Lennon's voice changed. The only available footage of the original version is the Pointy things song.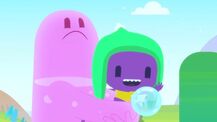 Community content is available under
CC-BY-SA
unless otherwise noted.