Doctor Strange in The Multiverse o Madness - The Loop
Play Sound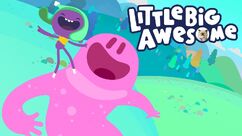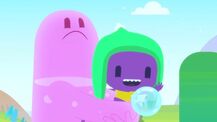 Little Big Awesome is a children's animated cartoon only available for Amazon Prime video. The show features a mixture of animation, puppets and live action. 2 pilot episodes were created, the 1st one being made back in 2010 and was called "Gluko and Lennon", and one made in 2016. The 2010 pilot can be watched on Vimeo, but the 2016 pilot is partially found. There were many differences between this pilot and the show today, such as a different, much shorter theme song which was an instrumental (if you don't count the vocalizing) version of the "You're number one" song from the 2010 pilot, and Lennon having the voice of a grown man instead of a high pitched cute voice.This was because he was voiced by James Arnold Taylor instead of Jessica McKenna at the time. The pilot was made into an actual episode when the show first debuted, with Lennon's voice changed. The footage of the original version is the Pointy things song.
The 1st Pilot took at least a year 1/2 to make it between Late 2008-Early 2010
The 2nd Pilot took at least 3 years to make it between Mid 2013-Early 2016
Possible screenshots from The Original Version Of "What's The Bubble Trouble" the 2016 Pilot Episode.
See The Link Below:
https://glukoandlennonpilot2016.blogspot.com/2022/03/little-big-awesome-partially-found.html

1. Lennon swims In Gluko's belly them pull up.
2. Gluko & Lennon and Toast falling then Para-shoot.
3. Lennon holding Kitty Num Nums and Gluko run each other with kitty cats in their original house,
4. Lennon has fun with whale then Gluko shapes like whale.
5. Live Action puppetry.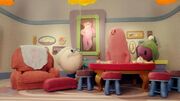 Gallery