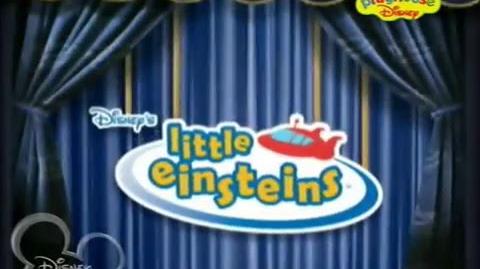 Little Einsteins is an American children's show that aired on Playhouse Disney (later known as Disney Junior) on October 9, 2005. The show has many dubs, including Greek, Italian, Hindi, and Czech.
However, there is a rare Hungarian dub of the show entitled "Kis Einsteinek." The dub was made by Masterfilm Digital (Digital Media Services at the time) for Disney Channel's "Playhouse Disney" block in 2009 when Disney Channel launched in Central Europe replacing Jetix. The three parts of "The Legend of the Golden Pyramid" were uploaded on YouTube, but sadly got blocked worldwide by Disney. The theme song was never blocked. No more clips of the Hungarian dub have been found yet, untill the 21st of February, 2016, when ballwa44 found it on nCore (invitation only torrent site).
On the 19th of September, 2020, Dubbed Einstein uploaded the Ring is Going Home song in Hungarian. The full episode is not available (not even on the torrent) and it is claimed to be on a promotional DVD which only included a portion of the Ring Around the Planet episode. The episode is available through this link: https://drive.google.com/file/d/1bx2a7zZanwOOGkxdwUfyFbGKPH66K2v5/view?usp=sharing
On the 1st of November, 2021 Khail Johnson uploaded lots of clips of the Hungarian dub including the beginning and blastoff scene of "I Love To Conduct", the beginning and blastoff scene of "The Christmas Wish" and the beginning and blastoff scene of "A Little Einsteins Halloween". The videos were removed by the uploader on January of 2022, but the torrent is still available on nCore.
The whole Season 1 of the dub has been found thanks to Disney+ being launched in Hungary on 14'th of June, 2022. Season 2 was not dubbed for unknown reasons.
Cast
Márta Talmács - Annie
Andrea Laudon - June
Bence Penke - Quincy
Barnabás Timon - Leo
Péter Korbuly - Cast reader
Activity books
There were even Little Einsteins activity books in Hungarian (Irány a kalandsuli! - Head to adventure school!), but there were only 3 parts of the book series. The book series were based off of the English version (Adventures in Learning) published by Bendon Publishing. The book series were published by Alexandra and even included stickers:
The links are only for reference and the books can no longer be ordered, as these books were published in 2009.