Wiki Targeted (Entertainment)
Play Sound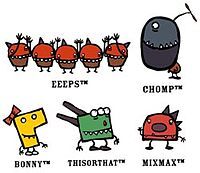 From 2004-2005 Burger King aired the kids meal commericals with the animated monsters called Honbatz, with the characters playing around the BK food, and they were mascots for Burger King's kids meals from 2004 until 2006 that replaced the Burger King Kids Club Gang. They were a group of five (or more if you count the Eeeps as separate characters) different-coloured monsters with distinct personalities. The Honbatz were designed to appeal to the pre-teen market and are still used in some European markets and New Zealand. In September 2006, an updated version of the animated king from the 1970s Burger King commercials replaced the Honbatz in Burger King's kids meal advertising. But some will go missing, and was frequently found on Burger King's Honbatz website from 2004-2007.
Founded commericals
The commerical with MixMax making fun at the camera, and the Eeps hits him with a Double Cheeseburger
The commerical with ThisorThat, and Chomp trying to get the Chicken Nugget (then known as "Chicken Tenders", at the time), and Bonnie eats it
Other commericals that are found or lost.
The commerical with Eeps, and Chomp with French Fries (found)
The commercal with Bonnie making a Motts Applesauce scuplture of Chomp, and a real version of him, puts his propeller in (found)
The commerical with Thisorthat choosing to eat either Small Fries, or Double Cheeseburger (Found)
The commerical with Mixmax, Bonnie, and Thisorthat drinking from the Soda fountain (Found)
Updates
Videos
Community content is available under
CC-BY-SA
unless otherwise noted.