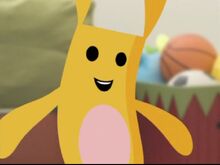 Flip was an animated Playhouse Disney mascot that debuted to substitute Clay, the former mascot, from September 16, 2006 to March 30, 2007, till the day Ooh and Aah debuted as mascots. It was animated by FlickerLab.
Found Flip Bumpers
Lost Again Flip Bumpers
Missing Flip Bumpers
Shane's Kindergarten Countdown
Mickey Mouse Clubhouse
Little Einsteins
Handy Manny
The Wiggles
The Doodlebops
The Koala Brothers
Charlie and Lola
Johnny and the Sprites
Cyberchase
Stanley
JoJo's Circus
BB'S Music Time
Bear in the Big Blue House
Captain Carlos
Higglytown Heroes
Sign-On Bumper
Sign-Off Bumper
If anyone had ideas of a Flip bumper that may existed, post them here.