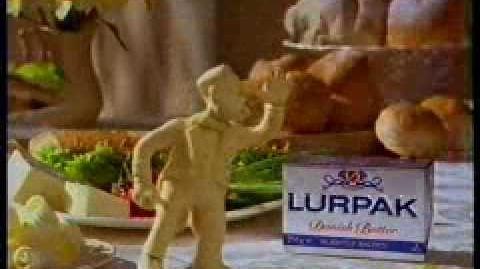 One of the series of commercials created by British animation studio Aardman is for the Lurpak brand, and centers around the character of Douglas (who is made out of butter) and his trumpet and the female narrator that often gets annoyed by him.
Many of the adverts were uploaded to the internet through YouTube, though some of them cannot be found in their complete versions. For instance, to coincide with the 1992 olympics, Lurpak had a special "Gold Coins" promotion and a Lurpak Douglas advert to go with it, in which he tries out a lot of different sport that his food-based and sized surroundings will allow him. This ad can partially be found online in that it has an introduction from Aardman animator Peter Lord and subsequent naration from him over it, with footage that is also possibly cut.
Another one of the ads had the narrator forcing the uncooperative Douglas into shot and to speak properly to the camera. This too can only currently be found in such cut form.
The full (or at least narration-less) versions of the ads can currently be found nowhere.
Community content is available under
CC-BY-SA
unless otherwise noted.