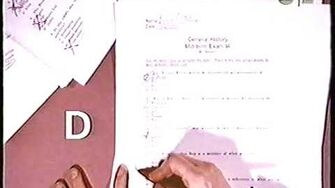 In 1999, to ring in 2000, MTV2 (sister network of MTV) decided to air a marathon of every music video they had in alphabetical order (entitled the A to Z Marathon), from 3 Colors Red's 1999 single "A Beautiful Day" to Cherry Poppin' Daddies' 1997 hit "Zoot Suit Riot". While some rare music videos have since surfaced via captures of parts of the marathon, it became infamous for skipping videos, airing videos twice, and placing the wrong tags on videos, among other mistakes. The marathon was supposed to last six months, but ended up airing until April due to many videos being skipped.
One notable aspect of the marathon is the letter bumpers. These would air between videos in any given letter until the "V" videos, and were clearly inspired by Sesame Street. For the first several letters, the text was large and in Arial, but were later on resized and put in a different font. Over the years since the marathon, a number of these bumpers have slowly but surely come to light by way of YouTube. Prior to this, the only evidence of any of the bumpers on the Internet was via a vintage Google Group on the marathon, where "Coat" was brought up.
Known Bumpers
As of May 23, 2020, all of the bumpers mentioned here are available for viewing on YouTube.
"Bail"
"Braces"
"Brainpower"
"Brainwashed"
"Burlap"
"Candy"
"Cattle"
"Coat"
"Commitment"
"D"
"Daredevil"
"Determined"
"Discipline"
"Erect"
"Fantastic"
"Fantasy"
"Friction"
"Fun"
"Gallstone"
"Good-bye"
"Greatness"
"Grouchy"
"Hens"
"Homie"
"Hound"
"House pet"
"Injustice"
"Intelligence"
"Intergalactic"
"Invert"
"Invitro"
"Jealousy"
"Jumpstart"
"Jungle"
"Karma"
"Killjoy"
"Kinetic"
"Kung fu"
"Lawsuit"
"Lickety-split"
"Loop"
"Lunch"
"Mathematics"
"Maximum"
"Miracle"
"Misunderstood"
"Necrophilia"
"Occult"
"Old School"
"Omnipotent"
"Optical"
"Pee"
"Personals"
"Physics"
"Professional"
"Question mark"
"Quixotic"
"Replication"
"Riverdance"
"Roswell"
"Roughnecks"
"Sexy"
"Sign"
"Skills"
"Speck"
"System"
"Talent"
"Tastey"
"Tech"
"Technique"
"Ultra"
"Umbilical"
"Vice"
"Voice"
Community content is available under
CC-BY-SA
unless otherwise noted.