DISCLAIMER: This article (or part of it) deals with Violent, Sexual, Profane, and/or Drug-Related Content. Viewer Discretion is Advised.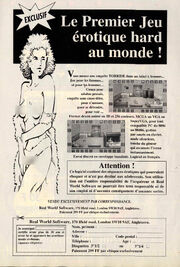 In November 1994, came out issue 71 of the popular French video game magazine "Génération 4". In it, there was a full-page ad for an erotic video game from Real World Software (subsidiary of Real World Multimedia).
"Exclusive: The First hardcore erotic Game in the world! You are on a hot investigation inside a woman hotel... Games for women... and men... Designed for adults who are in a hurry, puzzles without hurting your brain, so you can have fun, relax, watch..."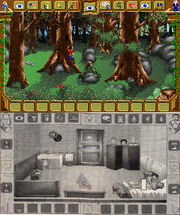 What's most strange is that the official title was never released. The ad made it very clear that the buyer had to be over 18, and that the game was meant to be bought through mail, payed with a check. As of now, no known copies of the game are known to exist.
Community content is available under
CC-BY-SA
unless otherwise noted.